This release introduces all-new translation functionality, the ability for Credential Admins to update multiple users' credentials simultaneously, and a brand-new support page!
New Mobile Application Version Numbers
All users using the mobile application will be prompted to update the next time they open the app, so long as they are connected to the internet. Users must be on one of the latest two (2) versions in order to continue using Sospes on their mobile devices.
2.4.55 (Newest)
2.4.35 (Previous)
Language Translations for Reports - Major Update!
Sospes can now automatically translate any report submitted into any one of 87 languages. Meaning, if an employee submits an incident report entirely in Spanish then their description and explanations will be translated automatically! When viewing submitted incidents, observations, and close calls in the Supervisor Portal users will notice new buttons that allow them to alternate between the original language the report was submitted in or toggle it to their preferred language. These translations will automatically occur when any report is submitted, so long as you have more than one language currently as a part of your Sospes subscription.
Learn more about language translations for reports!
---
Translations in the Admin page
In addition to translating reports, you can also use the translation functionality within multiple sections in the Admin menu. The functionality is available for the following sections: Investigation Tags, Observations tags, Risk Matrix Descriptions, and Asset Categories.
Learn more about the translation functionality found in the Admin Menu!
**Note: Observation Tags, Investigation Tags, and Risk Matrix Descriptions are located under System Configuration in the Admin menu.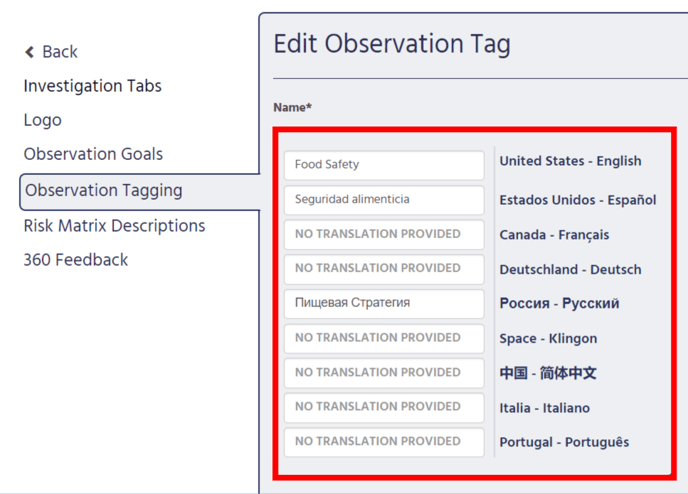 Credentials Module Improvements
We have added an all-new way that Credential Admins can manage multiple employees' credentials simultaneously. What this allows users to do is pick a list of employees whose credentials they would like to "bulk" update and make changes to all the selected employee's credential profiles at once. This will save time when working with a large group of employees. We have an updated knowledge base article on how this process works; view step-by-step instructions on how to credential multiple employees.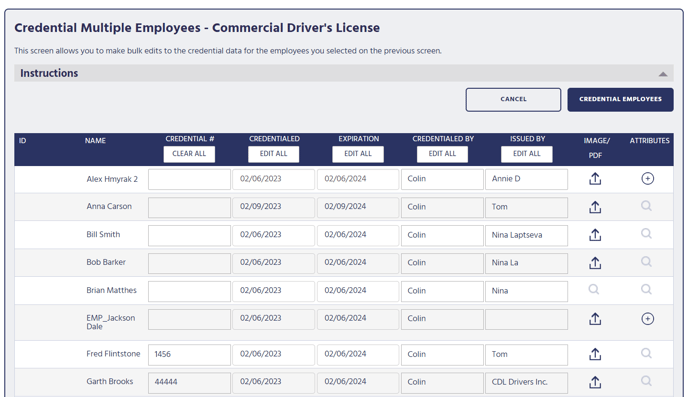 New Sospes Support Page
Sospes has now introduced a new support page with several different ways to reach the support team: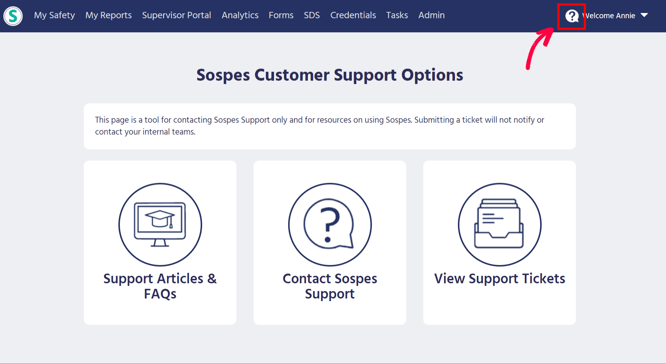 With our new Support Page, users will be able to submit tickets, communicate with the Sospes Support Team, and review the Sospes knowledge base. To access the customer support page simply log in to your account at
Sospes
and click on the
"?"
icon, located in the upper-right-hand corner of the page. The customer support page will show three different choices:
Submit a new support ticket – This allows users to submit a ticket, automatically notifying the customer support team.
View previously submitted tickets – Maintain communication with the support team as the issue is being resolved. View the status of any submitted tickets.
View Knowledge Base - Sospes user support articles and FAQs are available here.
Additionally, users can visit Sospes Support. Here users will be able to submit new tickets, review previously submitted tickets, and view the Knowledge Base of user support stories and FAQs.
Finally, users can email us at support@sospes.com. This will immediately create a new ticket regarding your issue and automatically notify the Sospes Support Team.
These three channels will be the fastest and most efficient way to contact our support team and receive the best help possible.
Other Enhancements:
Added additional fields to the data exports (ie: costs).
Resolved a display issue where credentials were not being updated upon being saved.
Corrective and Completed Actions allowed to use dates in the past for completed actions.
Resolves an issue some android users were having while logging in.
This update includes major performance enhancements throughout the web application.