This release includes enhancements to Observation Tags by Business Unit, SDS Binders by Facility, Multiple Chemicals in Environmental Releases, and more!
Sospes Mobile App (Android & iOS) will no longer support older versions of the app.

As of this update, users on the Sospes mobile application (iOS & Android) who are not on the latest version will be required to update their Sospes mobile app before they can use the system.
With today's release, the only mobile app version is:
2.3.142 (Current version)
2.3.114 (Previous release)
For more information on how to check your version number, click here.
The link above will also include instructions on how to update your mobile app, information for IT teams managing company devices, and the outcome of not updating your app to the latest version.
If you do not have the latest version of the Sospes mobile app, when you open the app, you will be prompted to update to the latest version. Follow the instructions on your phone to update to the newest version.
---
Observation Tags are now configurable by Business Unit (BU)
A good safety observation report should be comprehensive and provide the details needed by the organization for future improvements in health and safety in the workplace. Performing and documenting regular safety observations ensures a safer workplace, so let's get better together!

What are Observation Tags and how do I use them?
Observations Tags allow you to add additional data points via multiple choice selection on all Observation Reports. This becomes a great way for you to organize and pull data based on conditions or programs specific to your organization.
Getting Started with Observation Tags
To set up Observation Tags, you must have the Admin role.
Navigate to the Admin page and select System Configuration from the left-hand menu as seen below.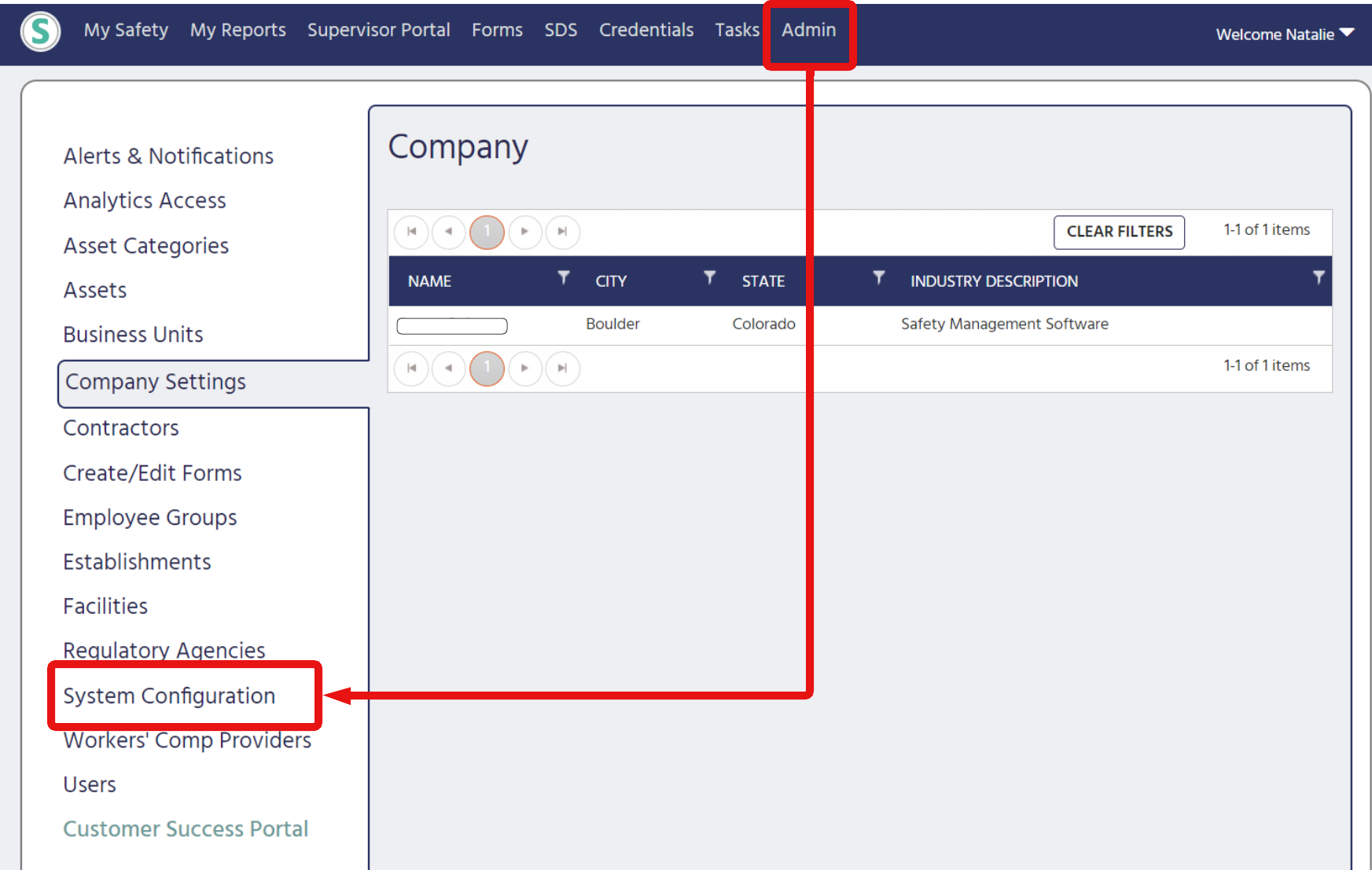 From the System Configuration menu, select Observation Tagging. To Enable Observation Tagging, check the box next to Enable Observation Tagging.

Adding a New Observation Tag
To add a new Observation Tag, click Add Observation Tag.

This will create a blank observation tag, type in your desired name in the text box on the right-hand side of the page.
Then directly below that, associate that specific observation tag with a Business Unit. Associating an Observation Tag with a Business Unit will only allow it to be displayed when an Observation is reported in a Facility within that Business Unit.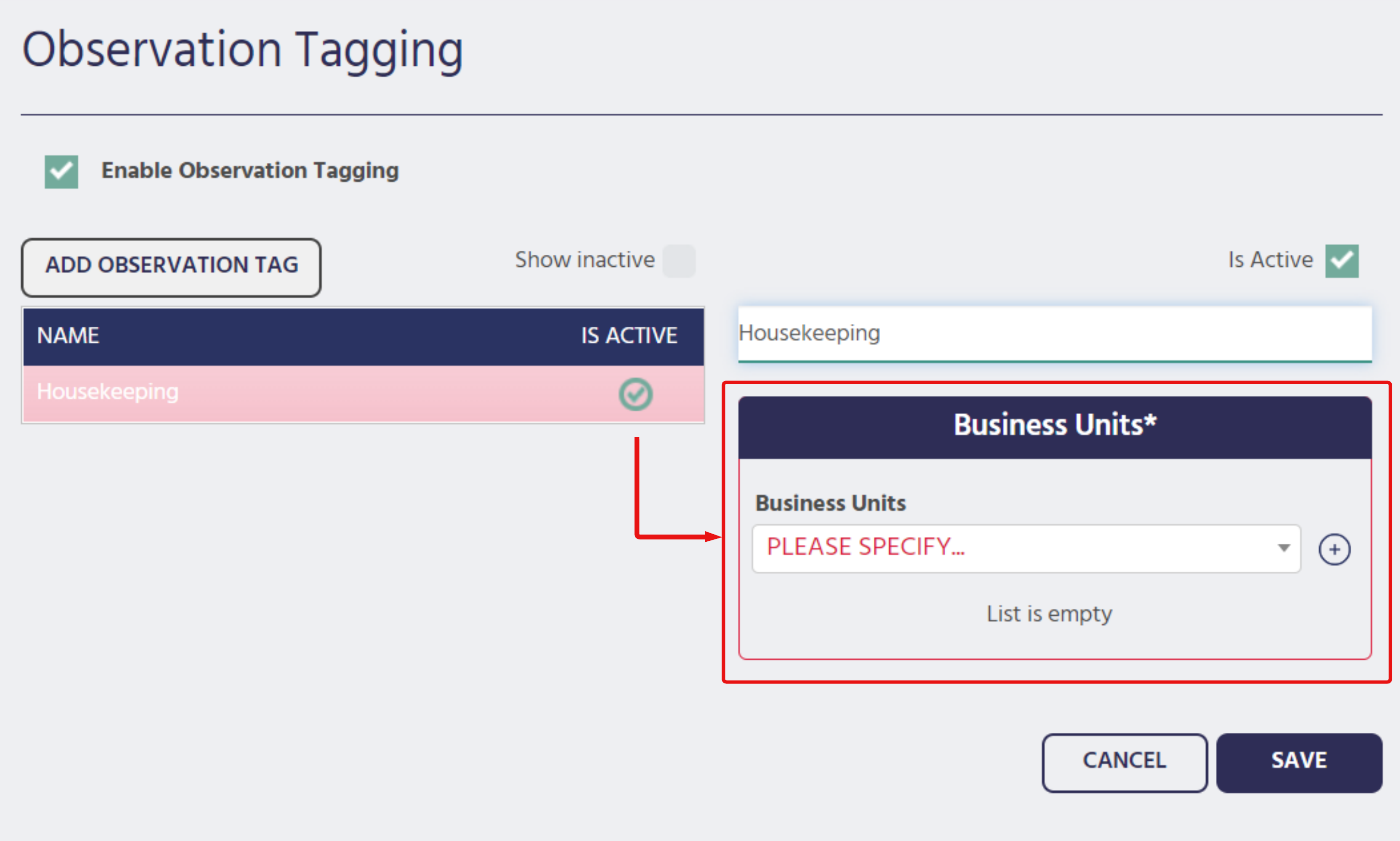 Selecting ALL will make the tag visible, regardless of the Facility selected.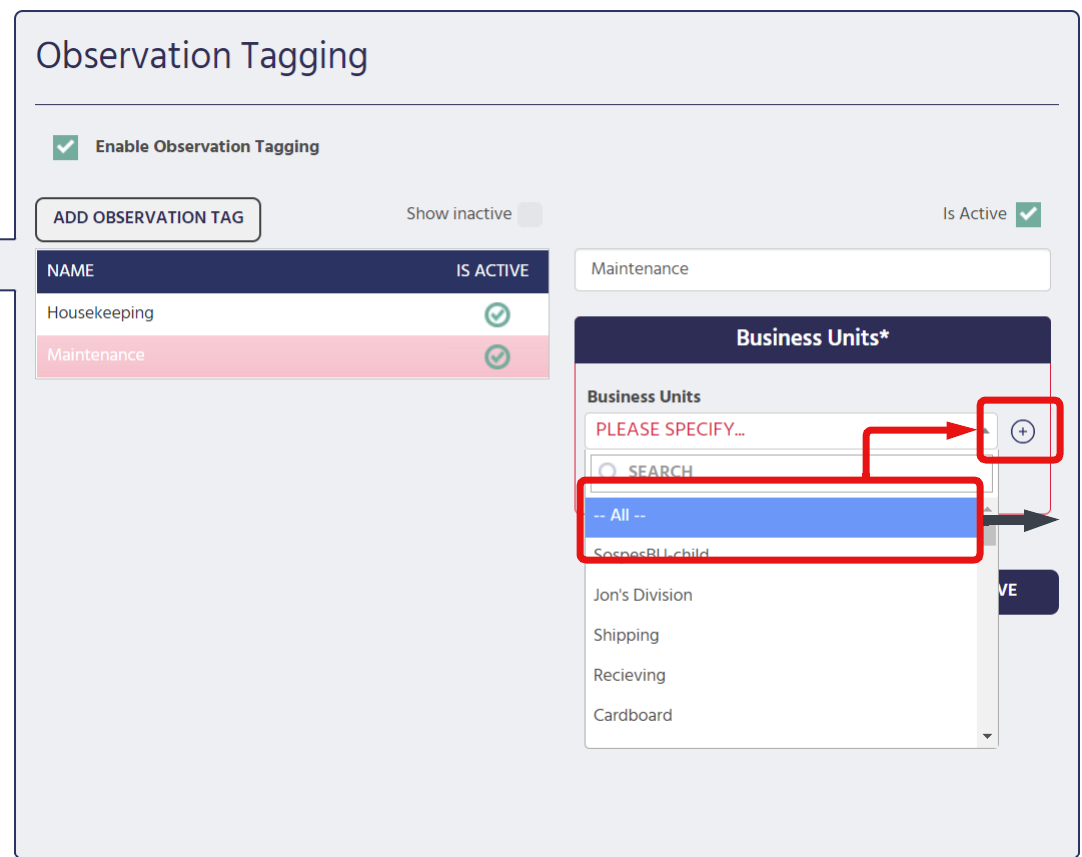 Once you've finished adding your Business Units to your Observation Tag, you must click SAVE in the lower right-hand corner of the page.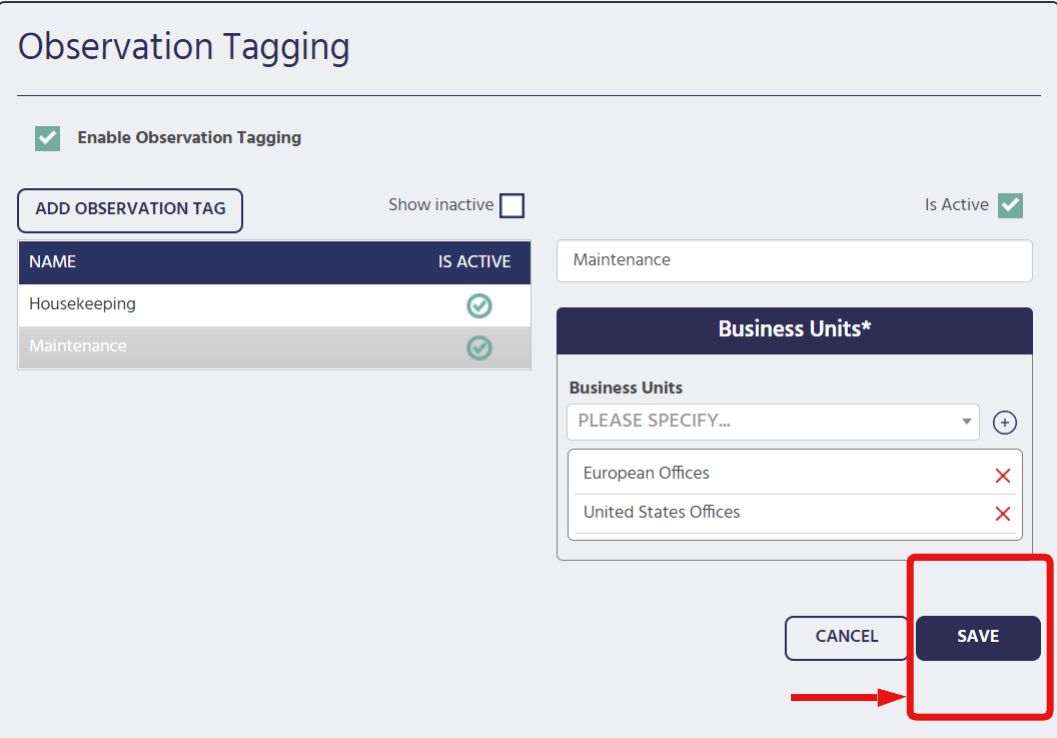 ---
Environmental Releases - Report Multiple Materials Released in Same Incident
This is useful in the case that multiple materials are released in the same event.
To report an environmental release, complete an incident report and click Yes to "Was there environmental damage?"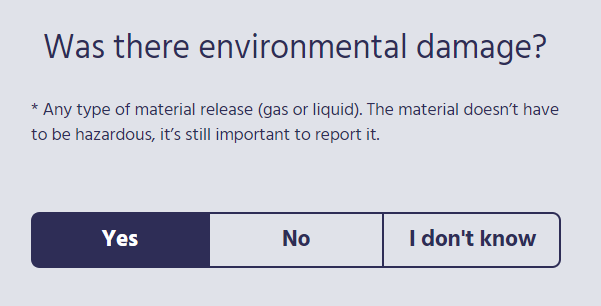 Answer Yes to "Was a material released?"

To add a New Material
If you answer Yes to "Was a material released?", users will have the option to add additional materials released to a single report.
Click Add New Material to add additional materials released to a report for one event!
Use the left-hand pane to track the materials added to the report.

For more information on how to report an Environmental Release (Incident Report) in Sospes, click here.
---
Safety Data Sheets (SDS) - Facility and Location Filtering Added
The Sospes SDS module allows companies to maintain their entire SDS binder digitally.
The module now allows you to tie binders to specific Facilities and Locations. If you would like help configuring this, please contact us via the Customer Success Portal.
Customers who are subscribed to the SDS module will now see these additional filters at the top of the screen:

For more information on navigating the SDS module, click here.
---
GDPR Changes
For users in countries covered by GDPR (European Union (EU) citizens), additional permissions and restrictions have been added. User are now given visibility to reports depending on whether or not they are flagged as a "GDPR user." - If a user's country is protected under GDPR, their user profile will be flagged as such.
GDPR flagged users cannot see certain things, such as the name of injured employees, and their names are then also hidden from injury reports. The system will also hide certain regulatory reports (ex: OSHA 301) from GDPR users. For more information on this functionality, please contact your Sospes account representative.
---
Other Improvements in this release
Performance Enhancements
HR Import Job Improvements
Lost Time/Lost Day Improvements