Sospes has made enhancements to the Customer Success Portal! You can now login to Sospes, access the knowledge base, and track your submitted ticket progress all in one place.
Our Customer Success Portal will give you the ability to self-guide your way through any questions you may have about how to best use Sospes!
From accessing our knowledge base (support articles) to submitting tickets and tracking progress, our Customer Success Portal allows you to do this all in one place.
---
Getting Started with the Sospes Customer Success Portal
To get started, simply go to support.sospes.com to access our knowledge base. Our knowledge base is a published collection of documents that includes answers to frequently asked questions, how-to guides, and troubleshooting instructions. You can find our latest product information, informative articles, how-to's and step-by-step instructions, and more.
It's designed to make it easy for you to find solutions to questions without having to ask for help.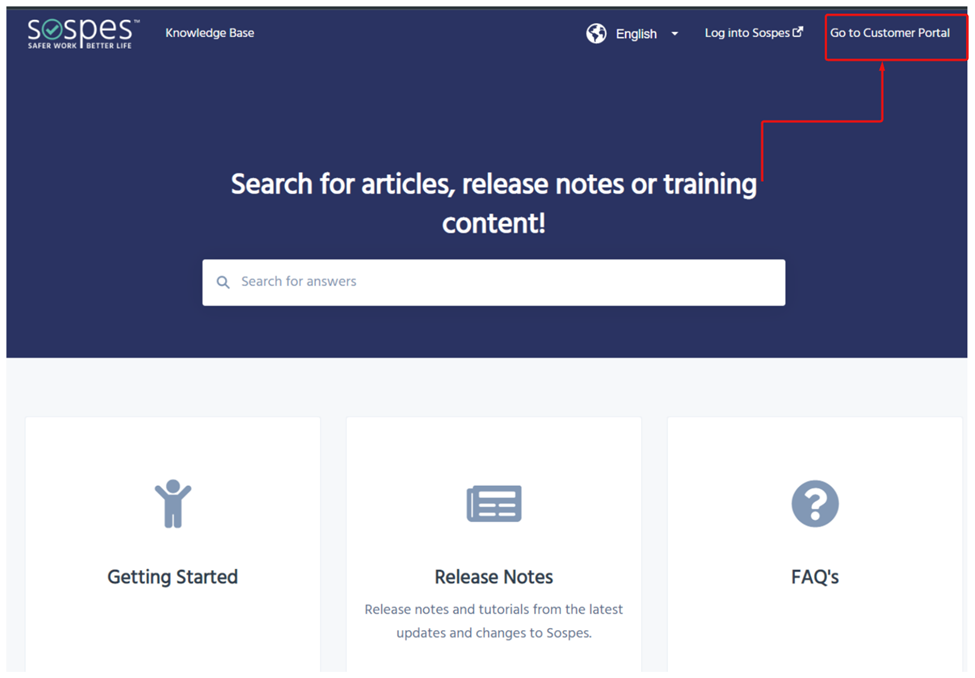 ---
Submitting Tickets
To submit a ticket, click 'File a Support Ticket' at the top of the page.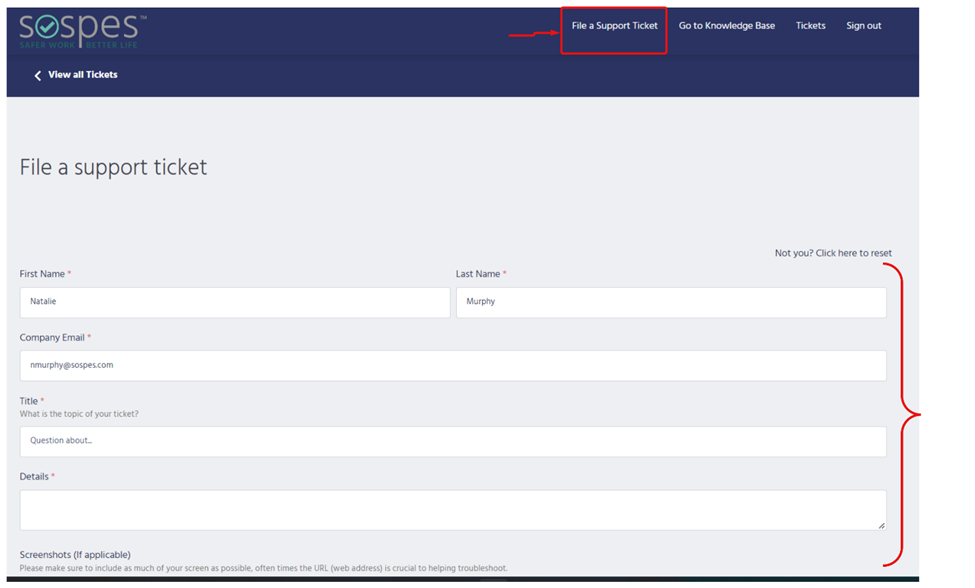 You will then be asked to fill out relevant information.
Be specific. Avoid simply saying "Help!" or "It's not working." Describe what it is you are attempting to do. We'd like to know exactly what is happening so we can more effectively address your question.
Provide as much relevant information as you can – does the issue occur with multiple users? Do you see the problem just some of the time or all the time? When did the issue begin to occur?
If there is an error message, send us the exact text of the message instead of summarizing it. We'd love for you to send us a screenshot of the actual message if possible! It's super simple to attach an image to a ticket.

You'll see a section where you can 'Choose Files' to upload to help us better understand and troubleshoot your issue.
Describe the steps you are taking when the issue occurs. Again, screenshots or screen recordings can be helpful if you are not familiar with the terminology or unsure how to describe your issue.
Be patient, we are working as quickly as possible to help you get back on track!
We may ask a few follow-up questions to get a clearer picture of the issue by contacting you.
---
How to View Progress of Ticket
To access your submitted tickets and track progress, click on 'Go to Customer Portal' in the upper right-hand corner. You will be taken to this page:

You can then view the ticket's progress by clicking the ticket subject. You will see updates from the Sospes Customer Support team here. You'll also be able to comment and add additional information to help us resolve your ticket.