Check it out...Sospes has been updated!
Say "hello" to Sospes' first update of the year! You may notice Sospes loading much quicker as this update includes a lot of performance enhancements. It also includes mobile SDS management, an embedded release note delivery process and admin management improvements! We always appreciate the input and feedback of our users, and as always, much in this release comes as a result of collaboration with you, our customers!
Request New Safety Data Sheets (SDS) from the Sospes App
Add materials to your SDS binder from the field or in your office.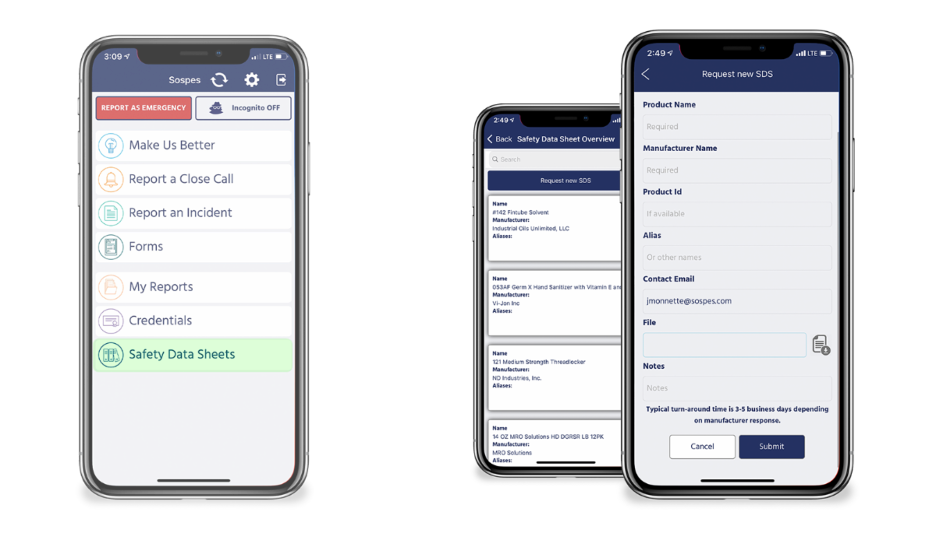 Managing your chemical inventory compliance should not be difficult or burdensome. Any user can now put in a request for a new material's SDS to be added to your binder. To utilize this functionality, just log into Sospes and open your SDS tab. Once you've opened the SDS tab, click or tap the "Request New SDS" button to open the SDS request form.
Filing out the form:
Product name will be the manufacturer's label name for the material.
Manufacturer name will be the name of the company who created this material.
Product ID will be any serial number or numerical ID associated with the material.
Alias will be any secondary or informal names for the material (Nicknames/Synonyms).
File is where you can add the digital copy of the SDS you currently have, if applicable.
Notes will be any additional comments or questions you have.
Press/Click submit when you're ready to request it!
New Release Note Delivery System
Never worry about searching your inbox for Sospes release notes again. Just check your Sospes system for the latest product release notes.

The way we deliver our release notes has improved! Emails can get buried or lost, and we never want you to miss our latest product updates. From now on, the latest release notes will be posted in the Sospes system in the announcement banner. We will also continue to distribute an email version should you prefer that route.
Filters Now Save Your Searches Even After Changing Pages
Sospes will now save your filters so you don't have to reset them when performing admin tasks.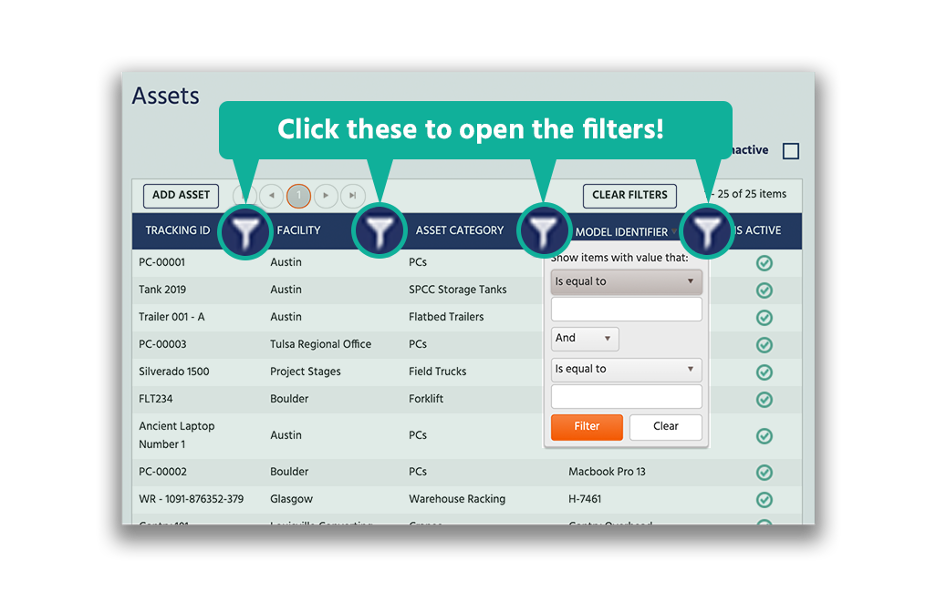 Sospes admin pages now save your filters even after changing pages. This makes asset and user management much easier! As a refresher for all our system admins, you can utilize our sophisticated filter functions by clicking the "golf tee"-looking buttons in the headers (shown above).
Other items added in the release:
· Improved credential tracking.
· New look and data added to the COVID self-screening summary report.
· General performance enhancements.
In other Sospes News:
The Ongoing COVID-19 Mitigation Strategies
COVID Employee Monitoring ProgramStarting at $1/Month Per Employee
Communicate, coordinate and collaborate in real-time to sustain and operate your business through any disruption.
Watch Video (3 min.)